Jun 20 2011 - Ellis Paul June 2011 Newsletter
Monday, June 20, 2011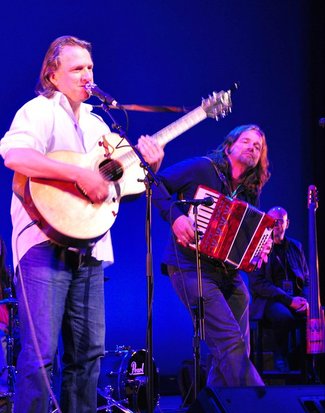 Twenty-six years ago, when I picked up a guitar for the first time, I used the chord diagrams from a book called "Greatest Hits of the Seventies" and slowly but surely stuttered and stumbled my way through a dozen or so Eagles, Bob Dylan, and Neil Young songs. Then something happened that convinced me I could step away from that bible of a book and all cover songs in general. I wrote a song. Something awful, but whatever, it was mine. It felt amazing writing it. Then I wrote another, and another, completely forsaking the learning of other peoples' material, though I became a student of intently listening to and deconstructing everything I heard. The good thing was that I was learning independently, and hopefully created a style and a flavor of writing and playing that was unique to me. The downside, in my opinion, is that I never learned the chord vocabulary and writing styles of other people I admired from the inside of the song out. I recently decided to learn many of my favorite songs and catch up with the inner bar band in me, and will be performing these songs at Club Passim's late shows on July 8th and 9th. The early shows will a set list of songs of mine you folks decided you wanted to hear via internet voting last month. The late shows will be a collection of my favorite songs by others, Randy Newman, the Band, Dylan, Steve Goodman, et cetera. I am trying to choose the songs and artists that influenced my work, that I think are essential songs for all songwriters to learn. I will NOT be repeating a song, so come to all of the shows and get over-dosed on American music. This weekend is celebrating the end of the 20 years I've had on the road. Radoslav Lorkovic will be beside me, accompanying me on the keys, and I am bringing a special guest from Charlottesville, VA along for the weekend as an opener, the remarkable young songwriter Peyton Tochterman, who has a new project coming out in time for the shows. There is also a songwriting workshop on Sunday morning, and a family show on Saturday afternoon.

Lots of other great things coming up! Next week I am cavorting across the Southern U.S. opening for Grammy award-winning duo Sugarland, which is always a pleasure and an honor. We are also planning a fan get-away in Vermont in late August at the West Mountain Inn. Radoslav and I will be staying there, spending four nights going over my entire catalog in chronological order- not repeating a song. These are intimate sessions, and quite interactive and relaxing for all. It's like a couch potato marathon, but during the day, you can hike, run, and inner-tube around the state of Vermont, so you'll deserve a sit down meal and few hours of music. Click here for more information..

See you down the road!
Ellis
Sugarland!
This week, Ellis returns to the big stage with Grammy-winning country duo, Sugarland! Ellis is incredibly excited to bring his show back to the arenas as the special guest of his good friend, Kristian Bush of Sugarland. On Thursday, June 23rd Ellis will open at James Brown Arena in Augusta, GA. Friday, June 24th the tour will make a stop in Choctaw, MS at The Arena at Golden Moon Hotel and Casino. Finally, on Saturday Ellis will play his last stop in Thackerville, OK at Winstar Casino. Ellis would love to see some familiar and friendly faces at these shows, so get your tickets now, come be part of the these fun events, and seize the opportunity to see Ellis in a rare and special setting! Visit
Ellis' tour page
for info on all three shows.
Passim Weekend – Fan Request & Covers Nights PLUS a Writing Workshop!
Ellis is gearing up for a very special series of shows in early July. On July 8th and 9th Ellis will host Fan Request and Favorite Cover nights at Cambridge, Massachusetts'
Club Passim
. There will be
two early shows
,
two late shows
, and
one songwriting workshop
. The Fan request shows will be made up of the top 2 songs from each Ellis studio album as voted on by the fans, plus some live requests from the audience each night. Come hear YOUR favorites from throughout the years, with Ellis giving back story on where each song came from and what influenced him at that point in his life. A truly unique night that may never come again, get your tickets now as we are sure this night will sell out quickly! During Ellis Paul covers HIS favorites, the cover show will be made up of songs Ellis has loved throughout his career, and will be all covers of his favorites from musicians who have influenced him over the past 20 years, with more back story on how each musician helped Ellis develop his own music.
If that's not enough… After the shows, on the afternoon of July 10th, Ellis will host a songwriting workshop at Club Passim. If you are an aspiring songwriter, or just interested in learning more about the craft, come check out the workshop for an informative and fun afternoon with Ellis Paul. We're looking forward to this incredible EP weekend, and we hope to see you there! For more information on all these shows, you can visit
Ellis' tour page
.
Ellis Paul – Back in the UK!
For all the Ellis Paul fans in the UK – the wait is over! Ellis returns late in July to see his friends across the pond. The British EP fan-base has made its presence felt, and Ellis is very pleased to announce that he'll be making the trip to perform there live and in person once again. Accompanying him on the journey is the amazingly talented singer/songwriter,
Lizanne Knott
. Lizanne is a staple of the BBC's Bob Harris radio show, and is excited to open for Ellis on all his UK dates. Get your tickets early, as you do not want to miss
these
two
rare opportunities to see Ellis and Lizanne before they head back home.
Ellis Paul Fan Retreat in August at the West Mountain Inn -- FOUR ROOMS LEFT!
For four days and four nights, you can be a part of a magical weekend that will include opportunities to meet friends, enjoy a mountainside made for hiking, browse shops, visit museums, participate in a songwriting workshop led by Ellis, feast at a communal BBQ party, enjoy singing around a bonfire after dark, plus experience FOUR nights of the music of Ellis Paul…with no song repeated! As an added treat, Ellis will be joined by keyboardist extraordinaire,
Radoslav Lorkovic!
If you've never had a chance to experience a musical retreat, now is your chance. The fan retreat takes place August 22-25, 2011, and is open ONLY to those who stay at the beautiful West Mountain Inn, making for a casual, intimate atmosphere.
At this time, FOUR rooms are still available at the Inn, so don't hesitate too long to make your reservation. Please contact Tim and Lori Blixt at
www.cabinconcerts.com/vacation.html
for information regarding costs and other details.
Naked Soul and Newport Folk Fest
Ellis will be performing at two major folk festivals next month –
Naked Soul
, and the
Newport Folk Festival
. Naked Soul will be held at the Rubin Museum of Art in New York City, and the Newport Folk Festival will be held at Fort Adams State Park in Newport, RI. These are great chances to see Ellis and some of his folk-playing friends for full days of amazing music. Check out Ellis' tour page for more information on these shows and more.
It's official! Happy Summer!
Best,
Ralph Jaccodine Management
www.ralphjaccodine.com/