May 21 2010 - 20 Years, Michael Kelly, Mary Chapin Carpenter & more
Friday, May 21, 2010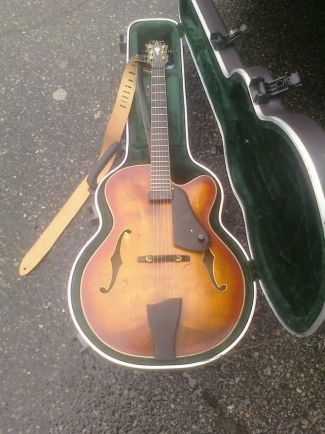 Hey Everybody!
Shows have been great, mostly packed and sold out of late, thanks for the support out there!
Lots to tell ya, if you read down the list of things. Video contests, the 20th anniversary show at Club Passim in July, dates in Vienna, Va this weekend (as a trio, Michael Clem and Rusty Speidel rolling with me) and then off to upstate New York in Hudson on Saturday..
I am thrilled to have just received a few new guitars from Michael Kelly, mostly for recording, but I may throw them on stage once in awhile (see photo)...
I'm so happy Summer is closing in... Been a long cold one here in Virginia.
The 20th Anniversary shows will take place at Club Passim on July 9th and 10th... I'm doing every song in order from CDs dating back to 1992's 'Say Something' to this year's brand new release 'The Day After Everything Changed'.
Friday, July 9th
7pm... Say Something, Stories
10pm... Carnival of Voices, Translucent Soul
Saturday, July 10th
3:30pm... Kids show Dragonfly Races
7pm... Sweet Mistakes, the Speed of Trees
10pm... American Jukebox Fables, and The Day After Everything Changed
We are working on commemorative t-shirts and mugs as we speak! And yes, I will have chords and lyric sheets! I'm already having senior moments just thinking about it. No repeated songs... And songs people have requested for years and that were refused will be performed, including 'King of Seventh Avenue,' 'Paris in a Day,' 'Translucent Soul' 'Weightless'...
I'll talk about each recording as we go. I'm really looking forward to reliving the songs at the place that's been my music's spiritual home for the last twenty years, Club Passim...
For those of you who can't make it to Boston, I'll be performing highlights from those recordings on a 20th Anniversary Road tour in January through the spring.
As far as creating new stuff-
I'm currently writing kids songs, but I can't mix 'em with my serious adult stuff. They tend to occupy my head like children, running around demanding attention, insisting I deal with them, spilling shit, they tend to dress brightly in pinks and yellows and dance like dervishes. I'm giving them a month to grow up and move out. They are fun, but c'mon already!
I hope to record them over the summer with Flynn on board as producer.
Check out the video contest if you do that kind of thing, or pass it on to your talented friends and family members... Pick any song! We'll tell you who wins this August!
See you out there!
Ellis
This weekend - Vienna, VA and Hudson, NY
Friday May 21st, Ellis will perform at Jammin' Java in Vienna, VA. Jammin' Java is in the DC-area and was recently named one of America's 40 best music venues by Paste Magazine. The show starts at 7:00pm and Ellis will be playing with friends Michael Clem (Eddie From Ohio) and Rusty Speidel backing him. (
jamminjava.com/home
).
On Saturday, May 22nd, at 10:30am Ellis will hold a Family Show at Jammin Java.
Tickets are $10, and children under 1 get in for free.
Ellis then hits the road for Hudson, NY on Saturday, May 22nd, where he will perform at the
Hudson Valley Songfest
, opener is Andy "Avenging Annie" Pratt. All proceeds go to the advancement of original work by performing artists and writers. You can buy a ticket for the whole day for $50, or just a ticket to Ellis' show for $20. Tickets are available at
ColumbiaArtsTeam.org
.
Ellis Paul opens for Mary Chapin Carpenter on Saturday, June 19th!
Mary Chapin Carpenter is a 5-time Grammy Award winning artist. On Saturday, June 19th, Ellis Paul will be opening for her at in the beautiful Paramount Theater in Charlottesville, VA. The concert will be in front of a sell-out crowd and the show begins at 8:00pm.
20th Anniversary Weekend at Club Passim - July 9th and 10th!
Ellis Paul's career as a musician has brought him to hundreds of venues, in front of tens of thousands of fans, in hundreds of cities across the globe. On July 9th and 10th, Ellis Paul will return to his home base, Passim, in Cambridge MA, to celebrate TWO DECADES of songwriting. In a special 5-show weekend, Ellis will work though albums from his catalog in chronological order.
As a thank-you to Ellis' fans for their 20 years of support, if you purchase tickets to 3 of the evening shows, you will receive the 4th ticket free. Tickets are available now on the Club Passim website (
clubpassim.org
)
"Stories" Reprint - The Revival of an Old Favorite
In preparation for the 20th anniversary performance of "Stories" on July 9th, Ellis Paul has ordered a reprint of the album "Stories." which has been out of print for years. This album was released in 1994 as a follow-up to his debut album "Say Something." This album includes tracks like "3,000 Miles" and "King of Seventh Avenue" and it remains a staple in Ellis' catalog (and is available for purchase on Ellis' web store).
"The Day After Everything Changed" Music Video Contest - $1,000 Grand Prize!
Calling all video fanatics!
We announced the competition when last we newsletter'ed, but we've made a few changes to the submission process to make it as easy as possible - please read carefully how to enter. (And yes, the Grand Prize winner will still receive $1,000)
This is your chance to create your own music video for any song from Ellis Paul's latest release, "The Day After Everything Changed." To enter the contest, upload your video entry to your YouTube channel, then send submission email with your name and a link to your video to:
ellispaulproductions@gmail.com
. Even if you don't plan on entering, you can check out the contest's YouTube Channel (
youtube.com/ellispvideocontest
) and see all the great entries (as well as Official Rules!). Don't hesitate to get started though - the deadline for submissions is July 30th!
Love Ellis Paul's music but video-challenged? Collaborate with your friends! Put your best ideas together and create something you think really represents Ellis' work. We can't wait to see all the great submissions!
Fan Story of the Month
Once upon a time in a land far, far away……..
It was February 1998 when I was first introduced to the music of Ellis Paul when a friend gave me a copy of Carnival of Voices. I was immediately captivated by his voice and his songs.
Five years later, my parents and I traveled to the United States from Germany and had an opportunity to attend our first live Ellis Paul show at the Tin Angel in Philadelphia. It was April 26, 2003. While we were in the car driving to the show, I predicted two things that I shared with my parents: 1) that I was going to meet Ellis Paul that night and invite him to come to Germany (I really wanted Ellis to play for me and my friends so we could spread his music in Germany); and 2) that if I ever found a girl to marry, I wanted Ellis Paul to play at our wedding. I'm sure my parents thought I was out of my mind! Before the Tin Angel show I was talking to another fan at the show and told her that my parents and I had come all the way from Germany to hear Ellis Paul. Somehow she managed to arrange for Ellis and I to meet after the show! So after the show I got my chance to meet Ellis and invite him to Germany. I also asked Ellis to sign three CDs, and on one of them he wrote "Spread these songs," on another one "Bring me to Germany," and on a third one "I will come to Germany". We shook hands and that handshake became our contract – the first step in making my dream come true.
Another three years and dozens of meetings at New England clubs and coffee houses later, Ellis toured Europe and Germany for the first time. Thank you so much Ellis! And thank you Ralph! On May 24, 2006 Ellis performed in Wasserburg, Germany at the crowded Belacqua Theatre. About 120 people were there. As the show's promoter I had the honor of introducing Ellis and that was when Susanne Stolpe - who was in the audience - saw me for the first time. Susanne told me later how she thought my face glowed as I told the audience that having Ellis perform in Germany was a dream come true. After the show I met Susanne for the first time and I was so full of joy and happiness that I gave her a big hug and turned her round and round. Because of Ellis' performance that evening she became a sponsor of the theatre and a few weeks later so did I. As a result, we saw each other again several times over the next several weeks, and by August we had fallen in love.
I was so happy and thrilled the night Ellis played in Wasserburg. It was an awesome and brilliant 2 ½ hour show - Ellis gave it his all - and was really exhausted afterward. It was almost unbelievable to me that because of my dream, others in Germany got to hear his songs!
In December 2006 Susanne and I traveled to Boston to see Ellis' annual New Year's Eve shows at Club Passim and we told him and everyone else how we met the night he played in Wasserburg. And now almost four years later - on May 14, 2010 – we were married at the Wasserburg Town Hall. Although we weren't able to have Ellis Paul in person at our wedding, his voice was heard singing "If She's the One" as the beginning of the ceremony.
Thomas Mueller
Wasserburg, Germany
[Karen adds: Thomas and Susanne are both family medicine physicians in Wasserburg. Although they had two separate medical practices, the two practices have combined into one. I was at the show in Wasserburg and can confirm that it was in incredible night. And Thomas did glow!
For contributing his story and being selected, Thomas and Susanne will be guests at an Ellis Paul show of their choice when they visit the States later this year. Submit your EP fan stories to me at
kmzundel@comcast.net
to be considered for a forthcoming newsletter.]
- Ralph Jaccodine and the EP Management Team