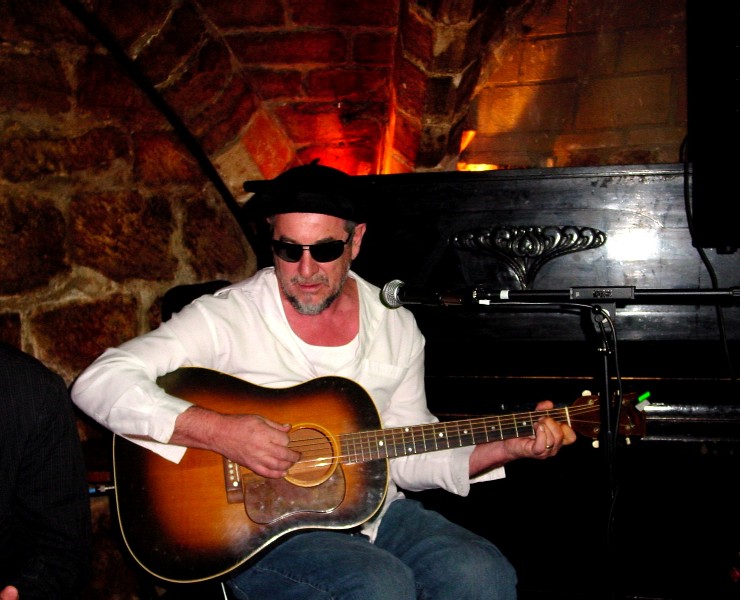 Hi,
The Iowa gang played two nights in Parais, twice sold-out with 100+ each night. Steaming...
As far as the fashion report is cocnerned (a tradition with these guys...), Greg was wearing what he called a "painter cap" on Tuesday night and a French beret last night, which I offered him on Tuesday. They did wear shades on Wednesday, but not on Tuesday.
I am not really familiar with Greg's huge body of work but i recognized Laughing river, The Poet Game, Whatever it was, Billy from the Hills, Kokomo, and my favorite song, which i had requested, Late Night Radio.
He also sansg a song by Lucinda Williams and closed the second night with "Folsom Prison Blues", in the same way as on the Youtube video.
I did not know what to expect from Greg and Bo on a personal level as I had only been dealing with Greg's manager. I met two very kind men, really happy to play in this tiny club.
Last night was my last "official" show (I'll present one more farewell ghig in July with Eric Andersen and Iain Matthews) and during his set Greg thanked me for bringing artists who do not belong to the mainstream circuit, and it sounded like he was speaking in the name of all the artists who had played at la Pomme d'Eve since I started the series four years ago. This was a very moving moment I'll never forget.
It was great to meet Richard and Jela, and Ed Hoare, all the way from the UK:-)
Some pictures
here
and links to reviews in French
and
in English on my
blog
Herve